The patron saints of the school are Our Lady of the Immaculate Conception and Saint Francis of Assisi. The TAU of St. Francis and the sketch of the Blessed Virgin in the school seal depict this dual patronage.
Basically, the logo consists of inner and outer circles which represent the entire Franciscan Family living in the spirit of unity, peace, joy, and endless service to humanity. The T or TAU Cross is an ancient Christian symbol of the Crucified Christ and indicates our belongingness to God.
St. Francis conformed his mortified self closely to that of the Crucified Savior. Hence, the bare arm of our Lord Jesus and that of St. Francis interlinked on the Cross to remind us of the love of God and Father made visible in Jesus on the Cross and perfectly mirrored by St. Francis in his lifetime.
Rooted in the heart of the Franciscan Order is Mary, the Mother of Jesus. Francis demonstrated deep devotion to this woman of faith. Her closeness to Christ naturally brought her into the life of St. Francis and his followers. Mary continues to be the source of inspiration in the life of every Franciscan follower throughout the world.
Proper use of the School Seal
The school seal was designed to serve as visual reminder of that FCIC stands for. Each and every element of the design echoes as part of the Institution's commitment to its students, their parents and every member of the community which it has vowed to serve with vigor and enthusiasm.
User may resize the seal.
Seal should not be inverted.
Seal should not be misproportioned.
Seal should not be redesigned.
Seal MAY BE PRINTED IN COLOR OR IN GRAYSCALE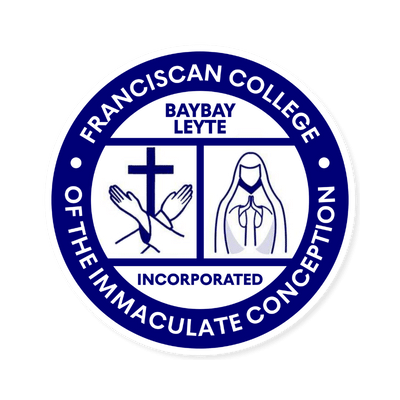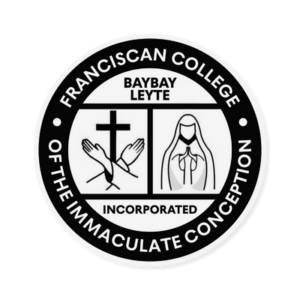 The FCIC Wordmark
The official wordmark system of the College features its name, "Franciscan College of the Immaculate Conception, Baybay, Leyte, Incorporated" using Avenir Bold font. Use the Avenirfont only in the wordmark.
For FCICians who need to use the wordmark and the seal in projects and other letters or documents, please show your file to the Institutional Communications Center or the Quality Management System office before printing to prevent non-conformity.